About Boardwalk
Boardwalk REIT strives to be Canada's friendliest landlord and currently owns and operates more than 200 communities with over 32,000 residential units totalling approximately 28 million net rentable square feet. Boardwalk is Canada's leading owner/operator of multi-family communities with 1,400 Associates bringing Residents home to properties located in Alberta, Saskatchewan, Ontario, and Quebec.
In 2017 Boarwalk REIT rebranded and re-positioned their Company. The 2017 annual report is a hallmark piece that needed to showcase the new brand to Stakeholders. Modern, fresh design paired with specialty printing techniques gave this report the visual edge to accompany the new brand and transition to a new Boardwalk.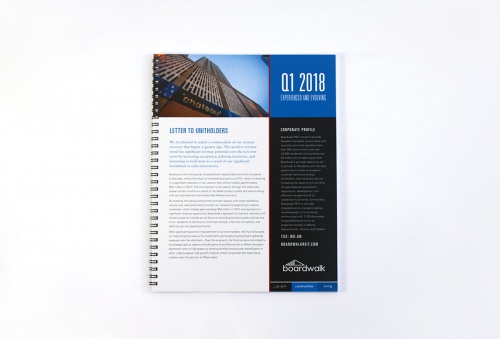 Published each quarter, the Boardwalk quarterly reports are primary stakeholder communication pieces that carry the design and theme of the annual report throughout the year. Specific design elements and photography styles are brought forward from the annual to ensure the pieces stand together, united.