About Kids Cancer Care
The Kids Cancer Care Foundation of Alberta is a charitable organization that helps families fighting childhood cancer in Alberta. Their programs are uniquely designed to meet the needs of the whole family at each stage of the cancer journey, from diagnosis through treatment and beyond.
Bold, bright design, honest photography and heartfelt stories are at the heart of the 2017 annual report for Kids Cancer Care. The large poster style of this year's report allows for bold visuals and compelling messaging to tell the Kids Cancer Care story. Readers are encouraged to read the snippets of stories as they unfold the report and are then directed to an online version where they can read the full stories.
Each year, nonfiction proudly partners with Kids Cancer Care to create an unforgettable experience for the annual Dad and Daughter Gala attendees. A unique theme is brought to life through a custom logo design, invitation and program creative as well as event signage.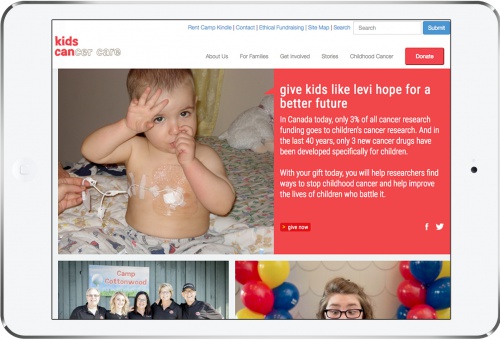 As a long-standing partner of Kids Cancer Care, nonfiction studios was honored for the opportunity to further contribute to the success of this amazing organization with a website redesign that makes it easy to engage with visitors, promote events and run fundraising campaigns.