About Seven Generations
Seven Generations Energy Ltd. is an independent, publicly-traded energy company focused on the development and value optimization of high-quality, tight-rock, natural gas resource plays. Seven Generations differentiates itself through its core attributes: the quality of its liquids-rich asset, large resource size, desirable location and market access, a high degree of operational control, proven and innovative technical execution and unique operating approaches.
Generations is an annual publication from Seven Generations Energy that tells the stories behind their stakeholders and truly demonstrates what it means to be community focused. Thoughtful stories, exceptional photography and beautiful design comes to together to create this compelling piece each and every year.
The goal for the 2017 annual report was to demonstrate confidence in the company during a challenging resource market. With a focus on strong visuals, high-level statistics and confident messaging, nonfiction created a powerful annual report for Seven Generations to distribute to its Shareholders.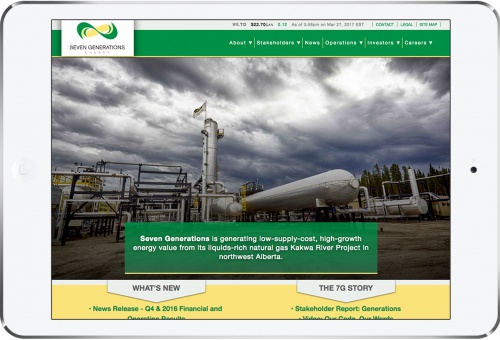 The project was completed in several stages, starting with a basic splash page to inform the public about the company and upcoming changes, quickly growing into a microsite with additional information on important developments and events and evolving organically into the full website available today.