The Inside Scoop from our Graphic Design Intern Leonor Aguero
September 11, 2019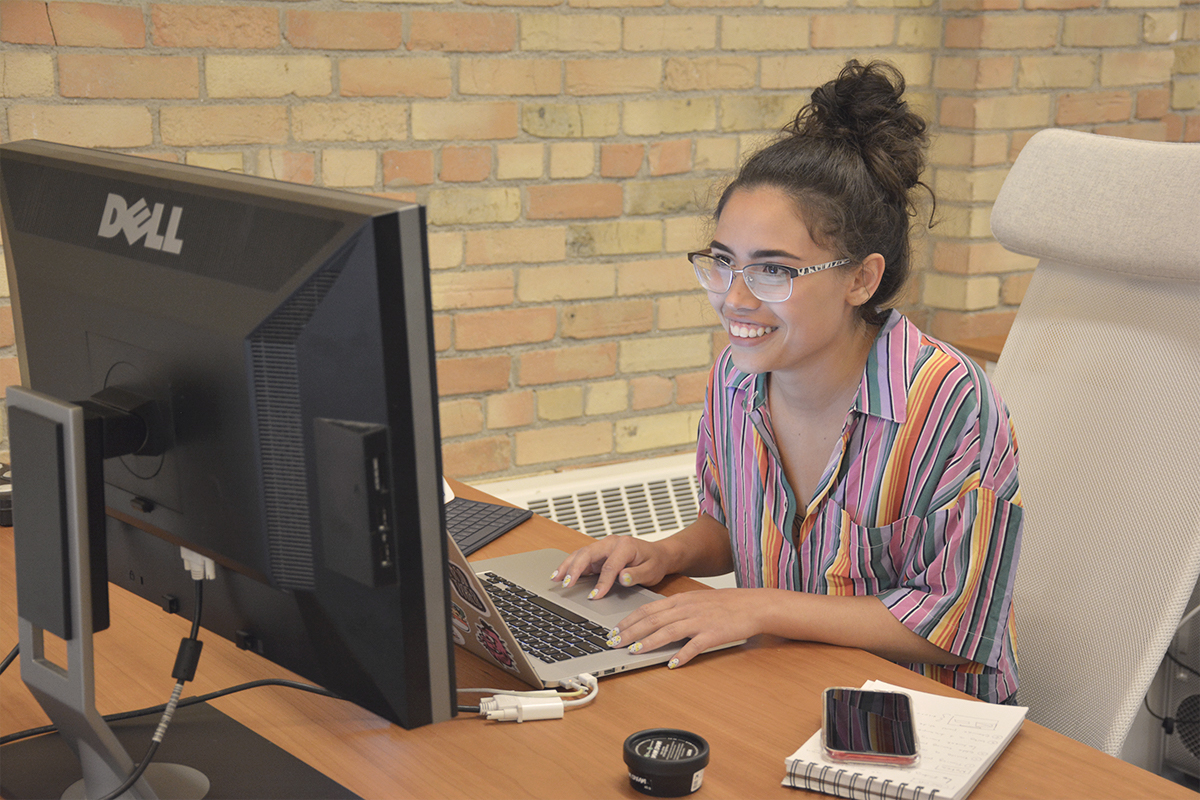 nonfiction was delighted to launch its internship program this summer, with the hire of a talented third-year graphic design student.
Our mission was to give someone an opportunity to develop their talents while gaining work experience to prepare them for life after graduation. Our amazing intern, Leonor Aguero, was the perfect fit for our team and quickly learned the ropes of working in an agency. 
Now that her time is over and she is going back to school to finish her final year, we asked her a couple of questions about her time at nonfiction. Thanks for all your hard work, and we wish you the best this year!
What were your expectations about working in an agency, and how would they compare to your actual experience?
From what I had heard from other people's experiences I was expecting to only work on small tasks, get coffee for people and make photocopies. Most interns usually complain that they're never taken seriously, but at nonfiction, I was treated like a professional from the beginning. I got to work on some awesome projects and express my own vision in developing creative. nonfiction shattered my expectations and now I want every job to be as amazing as this one. 
Can you describe a little bit about your role and the responsibilities you had as a graphic design intern with nonfiction studios?
When I started I was working on logo concepts for different companies, so there was a lot of sketching, research and concept development. I was also tasked with incorporating feedback and revisions to my designs and waiting for approval on changes, all of which were new to me. As a student, I am used to approving my own designs, but I enjoyed the process of going back and forth to really understand the clients' vision. 
How do you feel about the projects you had the opportunity to work on during your time with us?
I was super excited to work on any projects since they were all completely new to me and I had expected to only work on small tasks.  I was surprised and delighted to have the opportunity to work on big projects. My favourite projects I worked on during the summer would be the logo concepts for Explore Southern Alberta as well as the Canadian Badlands summer passport.  My final project was a custom illustrated animation for Canadian Beef Cattle Check-off, which was also very exciting to work on. 
Do you feel you gained any additional skills or experience that you can carry forward with you into your final year at school?
I'm eager to start my final year of school with much more confidence than before, because of the experience I gained working at nonfiction. I learned more about what it is to work in a real agency environment, with other talented creatives. I feel empowered to pursue what I really want to do in my projects moving forward in the school year. Working here I have also learned how to better deal with challenges and difficulties.
If you could use three words to describe the work culture at nonfiction studios, what would they be?
Challenging (in a good way) but fun and unexpected.
What is your most memorable moment at the nonfiction studios over the past few months?
I can't really pick just one out of so many, but my top 3 would be when 1) when I got to work on logo concepts for Explore Southern Alberta 2) when the nonfiction team surprised me for my birthday with delicious cake and 3) when my vintage journal concept  was loved by the nonfiction team and chosen to represent the Canadian Badlands summer passport. 
What are you going to miss the most about us and your experience here?
What I'll miss the most will be the super awesome and talented team I've gotten to know so well, who make mornings less of a hassle and make me excited to get up to go to work. They give Mondays a whole new weekday vibe.
To learn more about Leonor and to check out her personal design portfolio, visit  www.lavleonoraguero.com.